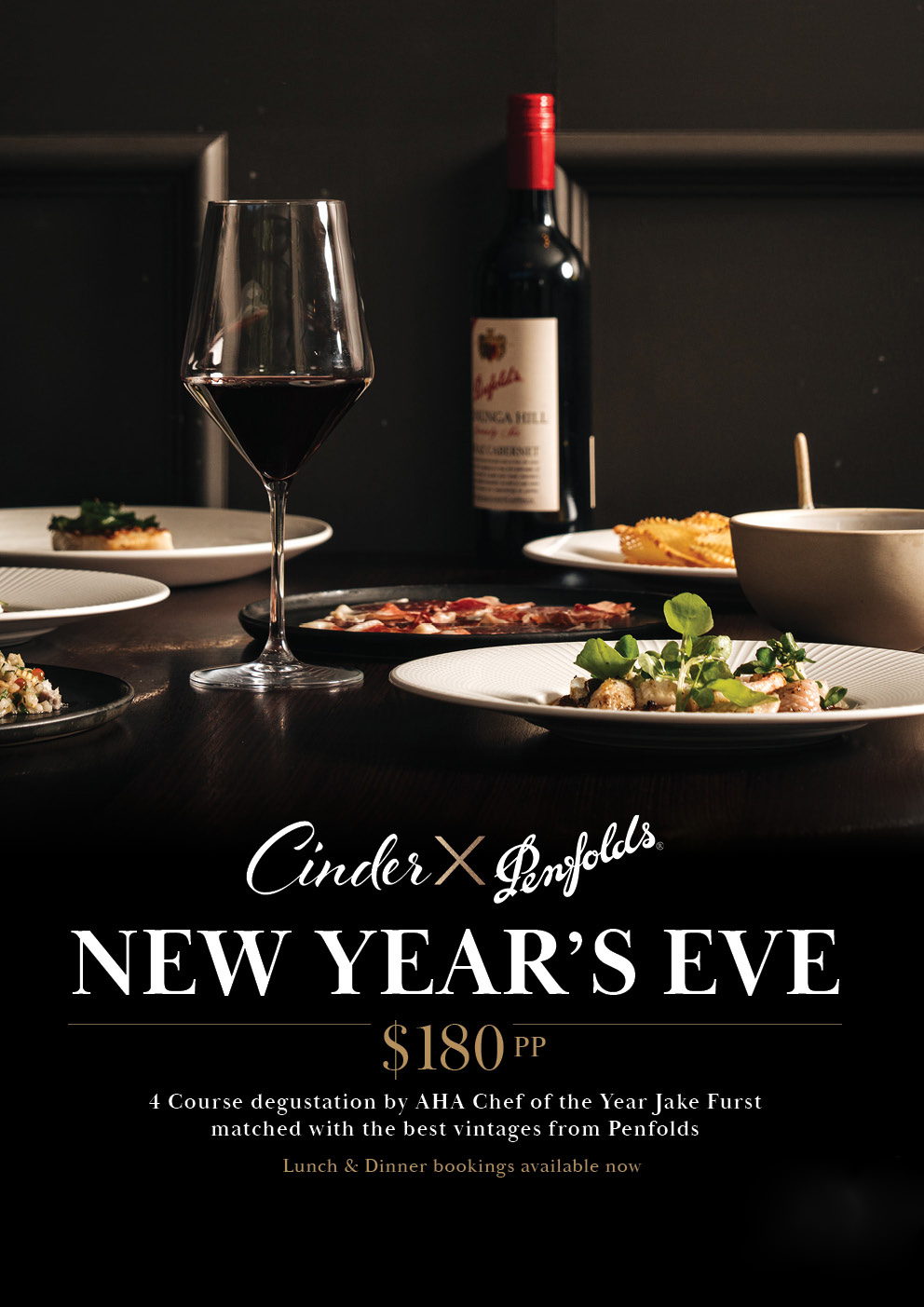 New Year's Eve
– 31st December, 2023
– Lunch: From 12pm
– Dinner: From 5:30pm
– Price: $180pp
This New Year's Eve, embark on a culinary voyage at Cinder, featuring a unique collaboration with the esteemed Penfolds winery. Join us for a day of epicurean delight with a one-time lunch service and two exclusive dinner services for New Year's Eve.
Vintage Elegance and Culinary Artistry
Our theme for the evening is a celebration of Penfolds' finest vintages, a tribute to the end of a year with timeless tastes. Each course of this extraordinary event is designed to highlight the nuances and depth of Penfolds' renowned wines.
Four Courses by AHA Chef Of The Year, Jake Furst
Indulge in a four-course degustation menu crafted by AHA Chef Of The Year, Jake Furst. Each dish is an expression of culinary excellence, meticulously paired with a stunning Penfolds wine to create a harmonious symphony of flavours.
Exclusive Grange Experience
The pinnacle of your dining experience will be a 60ml pour of the legendary Penfolds Grange, an iconic wine celebrated worldwide. Depending on our selection, you will have the opportunity to savour the 2008, 2010, or 2013 vintage, each a masterpiece in its own right.
An Elevated Evening of Indulgence
For $180 per person, your evening includes this exquisite four-course menu with perfectly matched wines, including the special Grange tasting. To add to the grandeur, all guests will be offered a complimentary cocktail at Terminus at the conclusion of the service.
A Night to Remember
This event is crafted for those who appreciate the finer things in life – the foodies, the wine connoisseurs, and anyone looking to treat themselves to an unmatched New Year's Eve experience. Cinder x Penfolds promises not just a meal, but an evening of refined luxury, exceptional tastes, and unforgettable memories.
Secure Your Spot
Reservations are essential for this exclusive dining experience. Guarantee your place at Cinder's New Year's Eve celebration with Penfolds and toast to the new year in unparalleled style.